How Tintin inspired an iconic Nepali T-shirt brand :
When Pradeep Man Shakya, the owner of Juju Wears, was in the sixth grade, he had read Tintin in Tibet. Patanai??i??s Bhimsensthan was in it.
But when a porter reprimanded Captain Haddock in Hindi for shouting at him, Shakya was hurt. ai???How could the creator of Tintin have been so blatantly insensitive to Nepal? Didnai??i??t he know that Nepalis had their own language?ai??i?? Shakya thought.
ai???That showed the creators had not done their research. They had undervalued Nepal. I felt Nepal deserved more,ai??? says Shakya. Nearly four decades later, Shakya had the chance to bring Tintin to the attention of Nepalis, without hurting their feelings. Shakya designed a T-shirt print that showed Tintin being carried in a doko. Was that Shakyaai??i??s way of settling the score with HergAi???
ai???Itai??i??s not revenge,ai??? says Shraman Shakya, Pradeepai??i??s son who looks after marketing at Juju Wears. ai???Itai??i??s more like justice.ai???
Shakya downplays his sonai??i??s slightly serious tone with a hearty laugh. His reasons for making that T-shirt had nothing to do with revenge or justice. ai???I have a soft corner for Tintin. I wanted people who hadnai??i??t ever had the joy of reading Tintin to at least enjoy the hero on a T-shirt. In one way, I was trying to marry a developed societyai??i??s creation with the Nepali society, which still clings to many of its old beliefs and practices. I wanted to put international icons in the Nepali context. Itai??i??s fun to see Spiderman perched on a building with Swoyambhunath in the background.ai???
***
The Tintin tee is one of many created by Juju. T-shirts are Shakyaai??i??s canvas.
As a child, he drew scenes from Tarzan and Phantom comics to gift to friends. Though talented and passionate about art, Shakya knew that he wouldnai??i??t be able to pursue a career as an artist. He did get a bachelors degree in fine arts from Kathmanduai??i??s College of Fine Arts in 1984 but soon, his artistic interests slowly got pushed to the background. He belonged to a family of businessmen (his father owned the Gift Shop in New Roadai??i??s Bishal Bazar), and he was expected to become one too. ai???I think I didnai??i??t have enough passion to devote myself to art,ai??? Shakya says.
Shakya started his first business in 1987. He partnered with some friends to acquire the distributorship for the then Surya Tobacco (now Surya Nepal). His family, however, was not happy. Buddhists, they objected to his son making a living by selling an addictive substance. Shakya pulled out of the business. By 1989 he was back at his fatherai??i??s shop.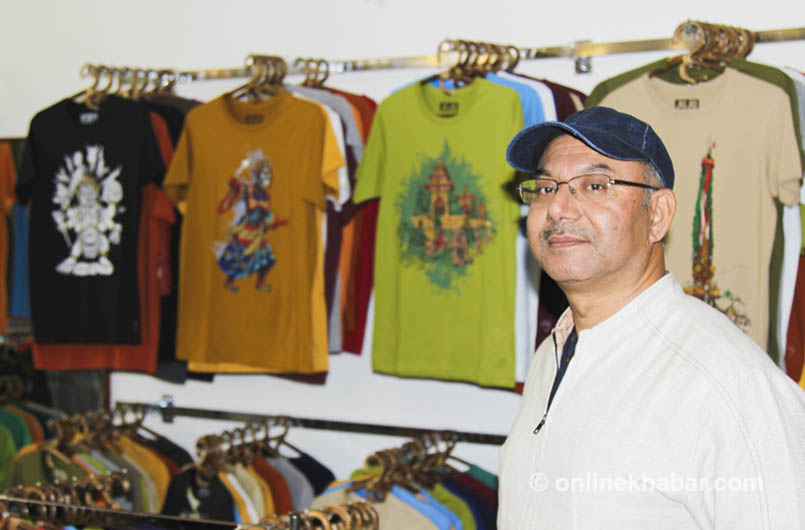 In 1990, a friend told Shakya that he was going into the garment business. Shakya jumped at the chance. He and his friend began importing cloth from India. They cut and packaged the cloth, then exported it to the U.S.
Even when the two friends were doing well, meeting orders from the States, Shakya did not forget that their business was entirely in their clientsai??i?? hands. He wanted a business over which he had more control, one built on something stronger than a fickle market thousands of miles away. And he wanted to do something creative.
Shakya also knew that a business that imported everything, from needles to textiles, from India would not go far. He wanted to use Nepali textile. And while doing so, he wanted to create products that were closer to his roots.